"Diamonds are a Girl's Best Friend". Marilyn said this sentence more than 50 years ago. Currently, many celebrities have a passion for diamond jewelry. We refer to necklaces, engagement rings or simple couple gifts; which are inaccessible to anyone of us. But you wonder how they are and their worth. According to the specialists diamond jewelry WP Diamonds, many of these jewels have more than a million dollars. Here is a very surprising list.
Superstar Rihanna once hinted to Vogue magazine that she was just like regular folk.
"My jewelry's all fake — from Claire's."
Not many believed Rihanna, because every time she's been photographed out and about, the sexy singer is draped in expensive baubles like an 81.88-carat platinum-set diamond necklace by Chopard. That exquisite piece alone costs hundreds of thousands of dollars. It's no secret beautiful celebrities like getting their bling on, or as the famous lyrics from Rihanna's song reveal, "Shine bright like a diamond."
Celebrities and Their Favorite Jewels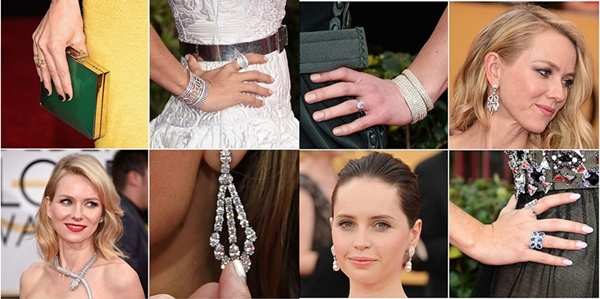 Ever since Kim Kardashian teamed up with iconic, hip-hop star Kanye West, the most famous reality television star has certainly upped her game. Her amazing, 15-carat diamond engagement ring cost $3 million! With the recent birth of her baby boy Saint, Kim is also coyly demanding a pricey push present covered in diamonds. "This pregnancy, I would love a Lorraine Schwartz diamond choker, like the ones I've worn before to the Art + Film Gala," she added. "Too much? LOL!"
Mariah Carey prides herself on extremely, attractive jewelry that sparkles brightly and is fit only for a diva. Mimi's billionaire boyfriend James Packer has just gifted the curvy singer with a $500,000 diamond necklace by Van Cleef and Arpels. That's a small amount to keep Mariah in luxurious, diva mode.
Mega star Beyonce adores diamonds so much, she's wrapped herself in flawless sparklers from head to toe. Bey recently wore $10 million worth of Lorraine Schwartz diamonds. Plus, she purchased Contessa Stilettos at $337,000 per pair. These all diamond stunners are quoted to be, 'Possibly the eighth wonder of the world.'
Victoria Beckham's a celebrity who loves owning wealthy jewelry, except she does it discreetly. Her handsome husband David obviously sports elegant taste, once gifting her with a $1,200,000 diamond and ruby necklace and an $8,000,000 Bulgari necklace one Valentine's Day.
Jennifer Lopez ain't Jenny from the block when it comes to collecting huge sparklers. Former husband Mark Anthony gave the sensual songstress two push presents when her adorable twins were born– a $300,000 canary diamond ring and $2.5 million custom diamond earrings engraved with the babies' initials.
Melania Trump has become more visible these days, especially since billionaire husband Donald Trump strongly leads all the Republican contenders for US president. Her diamond engagement ring is a gorgeous, 15-carat, emerald cut sparkler worth $2 million.
Beautiful, vintage diamonds are also a hot trend for celebrities who can afford them. Three famous women wouldn't wear anything less. They include Mary-Kate Olsen, recently wedded to Olivier Sarkozy, who dons a 1950's Cartier engagement ring featuring a four-carat European cut diamond encircled by sapphires.
Penelope Cruz loves the antique sapphire ring that was presented to her by husband, Javier Bardem. It features a stunning, oval sapphire surrounded by a halo of diamonds.
Milla Jovovich wears a lovely, 19th-century engagement ring. The ring features three diamonds – pale pink, yellow and white all set in a distinctive, vertical setting.