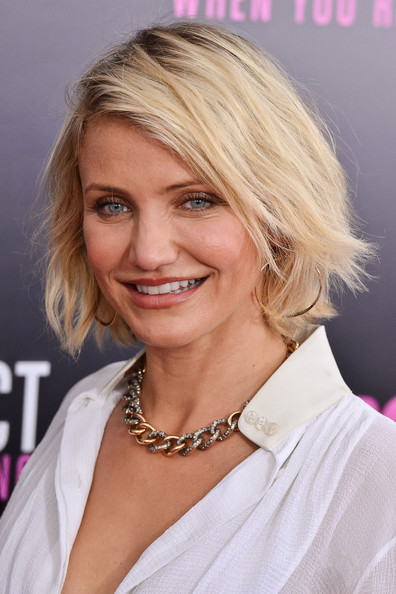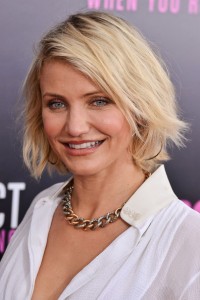 Cameron Diaz is an American model and comedian actress born in California on August 30, 1972. She belongs to a well settled and educated family. Diaz started her career as a model at the age of 16 and her beauty helped her to seek a place on the cover of various famous magazines in her teenage. She also appeared in various marketing campaigns such as, Coca-Cola and Levis. After a pretty successful modeling career, Cameron Diaz entered in the field of acting. In 1994, she made her debut movie named, "The Mask" which did great business on box office and established Diaz as a rising icon of Hollywood.
After her first blockbuster, Cameron Diaz signed many other movies by renowned directors. In 1995, she performed excellently in another film named, "The Last Supper". In 1996, she got chance to perform in "Feeling Minnesota" and "Head Above Water". In 1997, "My Best Friend's Wedding" got released which also a lot of appreciation from audience. In 1998, she performed black comedy film "Very Bad Things" that also got huge praise despite of being made with a low budget. Since making her acting debut, Cameron Diaz has kept giving blockbuster movies over and over again. Some of her most famous movies till now include The Mask, Charlie' Angels, Knight and Day, Bad Teacher, There's Something About Mary and Vanilla Sky.
Cameron Diaz has received a number of awards for her outstanding performances in various movies including "New York Film Critics Circle Award" for Best Actress, "Boston Society of Film Critics Award" for best supporting actress and Chicago Film Critics Association Award for Best Supporting Actress along with being nominated for many other awards. Along with this, she was also the Hollywood's highest paid actress aged over 40 in 2013.
Beside from her career, she had relationship with Carlos de La Torre, a famous video producer. After that relationship, she dated her co-star named Matt Dillon for almost four years. After their breakup, Cameron Diaz started dating singer and actor Justin Timberlake in 2003 but this relationship also ended as previous ones. She also got into a relationship with baseball star Alex Rodriguez in 2010 which ended in 2011. Diaz now has been married to musician Benji Madden since January 2015.
Cameron Diaz Personal Details:
Complete Name: Cameron Michelle Diaz
Nicknames: Cami, Al
Occupation: Actress
Date of Birth: August 30, 1972
Birthplace: San Diego, California
Zodiac Sign: Virgo
Height: 5′ 9″ (1.75 m)
Net worth: $90 Million
 Click for Cameron Diaz Height Weight Bra Size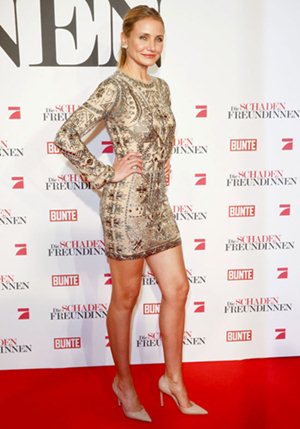 Cameron Diaz Favorite Things:
Hobbies and Interests: Surfing, Snowboarding, Sky Diving
Favorite Color: Blue
Favorite Food: Pasta, Steak Cuban-style, Avocado Salad
Favorite Book: Blood Meridian, Everyday Enlightenment, We Killed: The Rise of Women in American Comedy
Favorite Perfume: Clinique Happy, Gardenia Passion for women
Favorite Music: Ratt
Favorite Movie: Animal House
Favorite Body Part: Nose
Favorite Sports: Snowboarding, Football
Favorite Beauty Products: Sunscreen, MAC's White Frost eyeshadow
Favorite Pet: Dog
Cameron Diaz Interesting Facts:
Cameron Diaz studied in the same high school as rapper Snoop Dog.
She appeared on the cover of Seventeen Magazine at the age of 17.
Cameron Diaz had no previous acting experience at the time of signing her debut film.