Following the footsteps of her sister, Kourtney Kardashian is on a mission of breaking the internet with her new photoshoot for DuJour magazine. Kourtney who is pregnant with her third child has left very little to imagination as she beard it all in the new photoshoot by keeping herself covered with either a wet white shirt or with her hands only.
The mother of two, Kourtney Kardashian is 8 month pregnant with her third baby and she is certainly not shy even a bit to show-off her amazing body. Almost just one month ago, Kim Kardashian broke the internet by going full-frontal for Paper magazine and now following the foot-steps of her younger sister, Kourtney has done a similar kind of shoot but according to her, she doesn't wants to make a statement but instead she is celebrating the shape of her body being pregnant and capturing this special time of life.
Kourtney Kardashian Nude Pregnant Photoshoot 2014 For DuJour magazine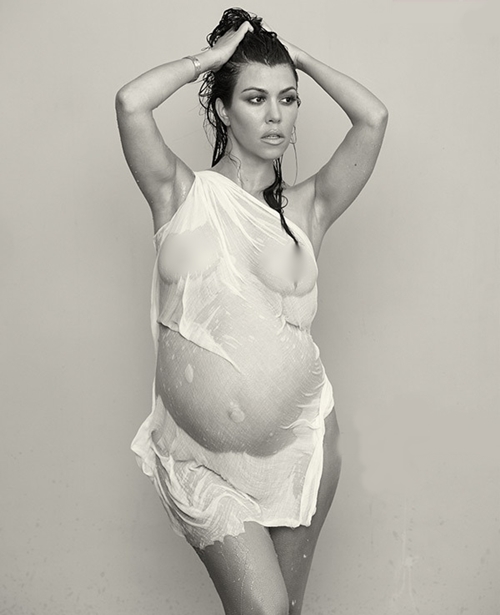 The recently released pictures of Kourtney Kardashian are really hot and have captured the attention of international media just like Kardashian family always does. In one of the pictures of photoshoot, Kourtney proudly puts her body on display while wearing a white top drenched with water and her nipples are clearly visible through the sheer wet shirt. In another picture, the pregnant Kourtney is seen wearing a feathered necklace which is hardly covering her breasts while she uses one hand to cover her private under parts.