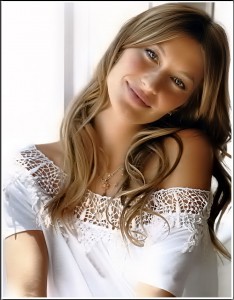 Born on July 20, 1980 in Horizontina, Brazil, Gisele Caroline Bündchen is an Brazilian actress, producer and fashion model. Gisele Bündchen's father Valdir Bündchen was a school teacher while her mother Vânia Nonnenmacher used to work in a bank. Known for her curves, high cheekbones and golden hair, Gisele was born with naturally attractive looks which ultimately helped her a lot in building a highly successful modeling career. Gisele Bündchen was actually never interested in becoming a model but she decided to give it a try on her mother's insistence and joined a modeling course in 1993 along with her sisters Gabriela and Patricia.
After being discovered by a modeling agent at a fast-food restaurant, Gisele Caroline Bündchen's competed in various modeling competitions before finally getting a big breakthrough in 1996 at New York City's Fashion Week. Gisele gained popularity in the fashion world immediately after making her debut and started appearing on the covers of various top magazines like Vogue and worked for leading fashion designers such as Dolce & Gabbana. After just 4 years of entering in the fashion industry, Gisele signed a $25 million contract with Victoria's Secret which established her as world's top model. Named among the sexiest models and most beautiful women in the world by various magazines, Gisele Caroline Bündchen has been the highest paid model in the world since 2004.
Along with building an extremely successful career as an model, Gisele Bündchen has also been involved in a few acting and production ventures. She has appeared in three films till now including Taxi, The Devil Wears Prada, Coração Vagabundo and was the executive producer of Gisele & the Green Team cartoon. Apart from this, she has also been involved in philanthropic work. Along with supporting various charities, Gisele has worked hard towards raising awareness about environmental issues and was named the goodwill ambassador for the United Nations Environment Programme.
In her personal life, Gisele Bündchen dated actor Leonardo DiCaprio from 2000 to 2005. After the couple's breakup, Gisele began dating New England Patriots quarterback Tom Brady during 2006 and got married in 2009. The couple now has two children a son named Benjamin Rein Bundchen Brady and a daughter Vivian Lake Bundchen Brady.
Gisele Bundchen Personal Details:
Complete Name: Gisele Caroline Bündchen
Nicknames: Gise, The Midas Queen, La Bundchen, The Hurricane Gisele
Occupation: Actress, Model, Producer
Date of Birth: July 20, 1980
Birthplace: Horizontina, Brazil
Zodiac Sign: Cancer
Net worth: $290 Million
 Click for Gisele Bundchen Height Weight Bra Size Pictures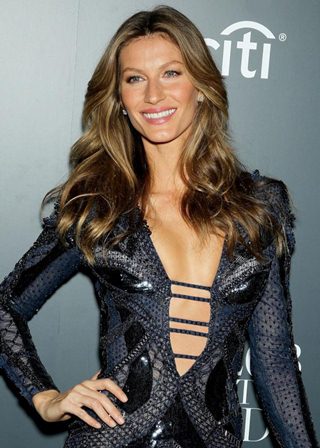 Gisele Bundchen Favorite Things:
Hobbies and Interests: Reading, Horseback riding, Playing Volleyball
Favorite Color: Green
Favorite Food: Meat, Coco Juice
Favorite Book: Self-Help Books, Life of Pi, The Light Between Oceans
Favorite Perfume: Dolce & Gabbana The One
Favorite Music: Jack Johnson, Caetano Veloso, Marisa Monte
Favorite Movie: Bicycle Thieves, Gone With The Wind
Favorite Sports: Volleyball, Soccer
Favorite Workout: Kung Fu, Anusara Yoga
Favorite Hair Product: Kerastase's Green line
Favorite Lips Product: La Mer's Lip Balm
Favorite Pet: Dog
Interesting Facts:
Wanted to become a professional volleyball player during her childhood.
Has a twin sister who was born 5 minutes after her.
Holds the Guinness Record for being the world's richest supermodel.