The event where the biggest stars of films industry will be seen together under one roof, the 87th Academy Awards 2015 are all set to take place on February 22 at the Dolby Theatre in Hollywood, Los Angeles. The nigh will be full of entertainment and to give you just a hint about what's going to happen at the ceremony, below we have provided complete list of performers and their performances schedule for Oscars 2015.
Organized by the Academy of Motion Picture Arts and Sciences (AMPAS), the awards in 24 categories will be presented during the event. The award show will began at 5:30 p.m. PST (8:30 p.m. EST/01:30 UTC) and this year, the responsibility of hosting the mega event will be performed by actor Neil Patrick Harris.
Oscars Awards Show 2015 Performances Schedule and Songs Performers list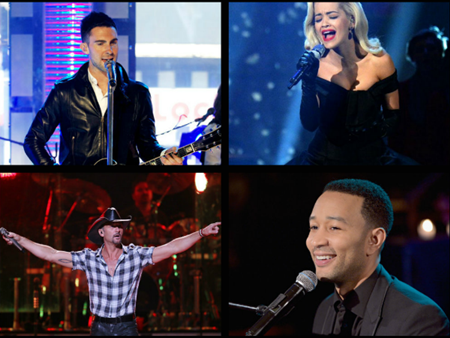 The preparations for the 87th edition of Academy Awards have already been completed. The list of nominees for the awards was announced during the month of January and now the list of performers has also been issued which has been given below.
Neil Patrick Harris: "Moving Pictures" during the opening segment
Jack Black: Special sequence
Lady Gaga: Special tribute Performance
Jennifer Hudson: Special Performance
Anna Kendrick: Special Performance
John Legend & Common: "Glory" from Selma
Maroon 5: "Lost Stars" from Begin Again
Tim McGraw: "I'm Not Gonna Miss You" from Glen Campbell: I'll Be Me
Rita Ora: "Grateful" from Beyond the Lights
Tegan and Sara & The Lonely Island: "Everything Is Awesome" from The Lego Movie
So these are the names of artists and the performance they are going to do at the Oscars 2015. The performer will come on stage time to time in the same order in which they have been listed here.