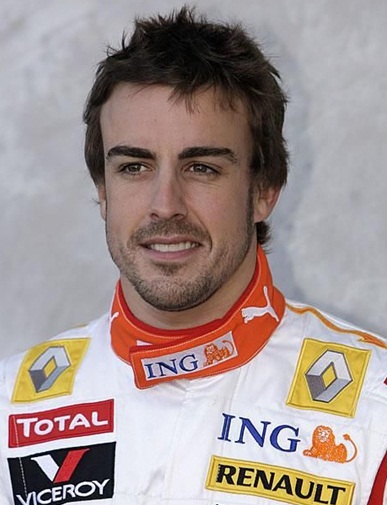 Born on July 29, 1981, Fernando Alonso Diaz is Spanish Formula One racing driver who currently races for Scuderia Ferrari. Alonso developed an interest in racing at a very young age as his father Jose Luis was an armature kart racer and wanted to pass on his passion to his son. He began karting at the age of just 3 and rose to prominence after winning karting championships in Spain consecutively for three years from 1994 to 1997 along with becoming the world karting champion in 1996. To pursue a career in motor racing, Alonso dropped out of college due to the difficulty of managing time.
Fernando Alonso made his Formula One debut in 2001 with Minardi and became the third-youngest driver ever to start a Formula One race. After staying with the team for a year, he joined Renault as a test driver in 2002 and became one of the main drivers of the team in 2003 after showing extremely impressive performance as a test driver. Fernando Alonso consistently kept showing improvement in way of racing and finally won the Formula One World Driver's Championship on September 25, 2005.
He was just 24 years and 58 days which made him the youngest racer to win the title at that time. By continuing his good run, he successfully retained the title in 2006 too. In 2007, Alonso moved to McLaren before returning to Renault for 2008 and 2009 season. He has been now racing for Scuderia Ferrari since 2010.
Due to his huge fan following worldwide, a large number of famous brands have signed endorsement details with Alonso which generates a major part of his overall earning. Fernando Alonso married Spanish pop band El Sueño de Morfeo lead singer Raquel del Rosario in 2006 and after almost 5 years of marriage, the couple announced their divorce in December 2011. He now has been dating Russian model Dasha Kapustina since July 2012.
Fernando Alonso Personal Details:
Complete Name: Fernando Alonso Díaz
Nicknames: El Nano, Magic Alonso
Occupation: Formula One Racing Driver
Date of Birth: July 29, 1981
Birthplace: Oviedo, Asturias, Spain
Zodiac Sign: Leo
Height: 5′ 7″ (1.71 m)
Fernando Alonso Favorite Music, Food, Color and other favorite things:
Given below are the complete details of what are Formula One racing driver Fernando Alonso favorite things such as color, food, music, movie, football team. hobbies, song and TV series.
Hobbies and Interests: Cycling, Football, Training, Magic
Favorite Color: Blue
Favorite Food: Pasta, Asturian stew
Favorite Music: Red Hot Chilli Peppers, Spanish pop
Favorite Song for karaoke: 'We are the Champions!' by Queen
Favorite Movie: Hannibal
Favorite TV series: Lost
Favorite Place to Race: Spa-Francorchamps circuit
Favorite City: Tokyo
Favorite Item of Clothing: Jeans
Favorite Sports: Basketball, Football, Racing
Favorite Football Team: Real Madrid
Favorite NBA Team: Los Angeles Lakers