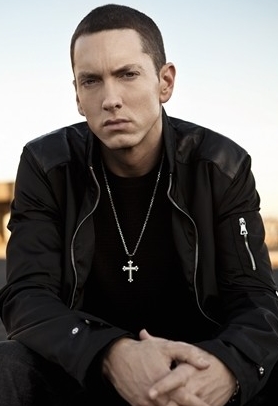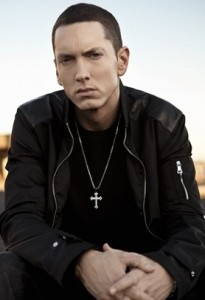 Marshall Bruce Mathers III commonly known as Eminem, was born on October 17, 1972 in St. Joseph, Missouri. The American rapper, actor, songwriter and record producer is the only child of his parents, Marshall Bruce Mathers, Jr. and Deborah Nelson. Eminem's mother gave birth to him when she was just 15 years old and his father abandoned the family when Eminem was just 18 months old. In his childhood, Eminem went through intense depression due to his family matters and also being bullied at school.
Eminem became a rap music fan at quite early age started participating in lunchroom freestyle battles at school. After gaining popularity in underground hip hop audience, Eminem released his debut album Infinite which failed to impress the audience. But Eminem kept doing the hard work and was finally rewarded for his struggled after being signed by Dr.Dre. With him, Eminem released album "The Slim Shady LP" in 1999 which became immensely popular and established Eminem as an upcoming iconic star of hip hop music. After the success of first album, Eminem released his second album in 2000 named, "The Marshall Mathers LP" which also became a huge hit and over 19 million copies of the album were sold worldwide. The album is widely considered as one of the greatest rap albums of all time.
Since gaining success with his first album, Eminem has released several extremely successful albums. Due to his success, he is now considered one of the greatest and best selling music artist in the world. Till now, Eminem has sold over 80 million copies of his different albums and has also received 13 Grammy awards for his fabulous work. Apart from rapping, he has also appeared in hip hop film 8 mile and also owns a record label named, "Shady Records" along with a radio channel. Eminem also established a charity for assisting disadvantage youth with the name of The Marshall Mathers Foundation.
Eminem has been married to her high school love Kimberly Anne Scott twice. Kimberly gave birth to their first child in 1995 and the couple got married in 1999. However things got messed up soon and they divorced just after two years of marriage in 2001. The couple resolved their issues later and got married again in January 2006 but this time, things went even got even more worse and the couple filed their divorce in April 2006. Eminem and Kim now share custody of their daughter Hailie.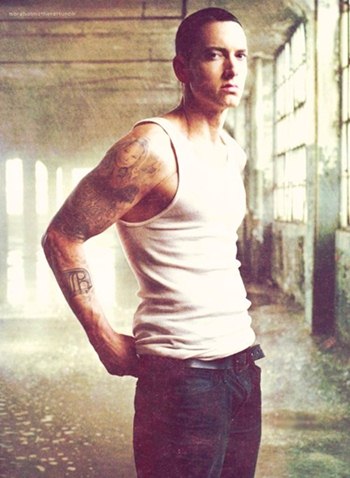 Eminem Personal Details:
Complete Name: Marshall Bruce Mathers III
Nicknames: Eminem, Slim Shady
Occupation: Rapper, Songwriter, Record Producer, Actor
Date of Birth: October 17, 1972
Birthplace: St. Joseph, Missouri, U.S.
Zodiac Sign: Libra
Eminem Height Weight Body Measurements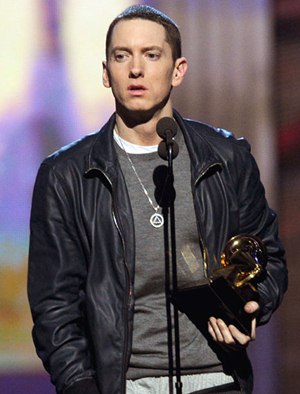 Eminem Favorite Things:
Hobbies and Interests: Writing, Rapping, Listening Music, Football, Watching Movies
Favorite Color: Light Blue
Favorite Food: Fast Food (Taco Bell and Wendy's )
Favorite Book: Comic Books
Favorite Music: Hip-hop
Favorite Rappers: Tupac Shakur, Jay-Z,  Dr. Dre
Favorite Dance Song: "Put Your Hands Where My Eyes Can See" by Busta Rhymes
Favorite Movie: Scarface (1983)
Favorite Sports: Football, Basketball
Favorite Basketball Team: Detroit Pistons
Favorite Football Team: Pittsburgh Steelers
Eminem Interesting Facts:
Eminem is left handed.
He wanted to become a comic book artist in his childhood.
Probably the one and only artist to cut his own hair.
Quit school after failing in 9th grade for three times consecutively.