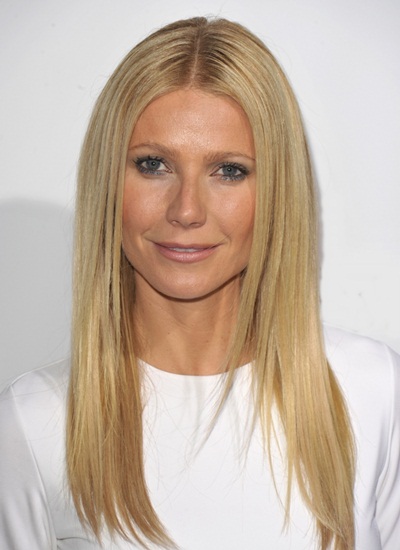 Born on September 27, 1972, Gwyneth Kate Paltrow is an American actress, food writer and singer. She is the daughter of film producer/director Bruce Paltrow and actress Blythe Danner. Gwyneth Paltrow was raised in Santa Monica and she made her acting debut with TV film High in 1989 followed by her film debut in 1991 with Shout. She appeared in several films during next few years and gained early notice for her work with performances in film Seven and Emma along with starring in films Sliding Doors and A Perfect Murder.
Gwyneth Paltrow first gained recognition worldwide through her fabulous performance in 1998 film Shakespeare in Love for which she received several awards including Academy Award and Golden Globe Award. During 2002 to 2007, Paltrow saw a downfall in her professional acting career as she failed to give any other film with notable success but she made a strong comeback in 2008 with the role of Pepper Potts in superhero film, Iron Man. The film was a huge success over box-office and it gave a new boost to her career which was continuously slowing down.
Since then, she has appeared in several more films and television series including Iron Man 2, The Avengers, Contagion, Thanks for Sharing, Iron Man 3, and Glee. In addition to acting, Gwyneth Paltrow has also sung a number of songs for her various films along with being a food writer. She launched a weekly lifestyle newsletter Goop in 2008 and has also published a few books.
In her personal life, Gwyneth Paltrow dated actor Brad Pitt from 1994 to 1997. The couple had even become engaged which was called off later. She then stayed in an on-off three year relationship with actor Ben Affleck during 1997 to 2000 before starting dating rock band Coldplay singer Chris Martin in 2002. The couple married on December 5, 2003 and has two children together. After almost 10 years of marriage, the couple announced their separation in March 2014. Since August 2014, Gwyneth Paltrow is now reported to be dating her Glee co-creator, Brad Falchuk.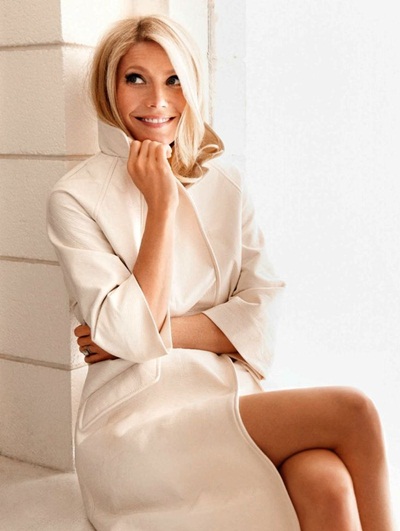 Gwyneth Paltrow Personal Details:
Complete Name: Gwyneth Kate Paltrow
Nicknames: Gwynnie, Gwyn
Occupation: Actress
Date of Birth: September 27, 1972
Birthplace: Los Angeles, California, United States
Zodiac Sign: Libra
Net worth: $60 million
Gwyneth Paltrow Height Weight Bra Size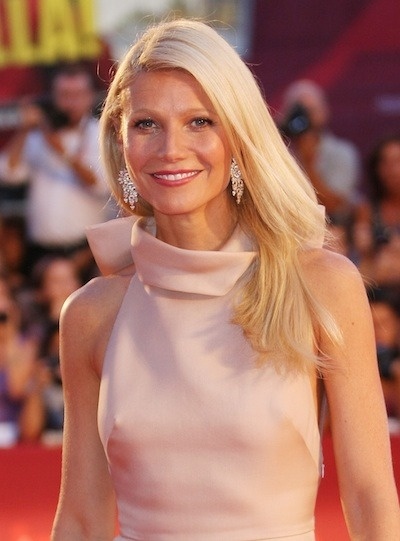 Gwyneth Paltrow Favorite Perfume, Hobbies, Music and other Favorite Things:
Given below are the complete details about Gwyneth Paltrow favorite things including favorite perfume, books, music, movies, designers, hobbies, food restaurants and blogs etc.
Hobbies and Interests: Yoga, Learning foreign language, Acting
Favorite Books: Jane Eyre, Crime and Punishment, The Sheltering Sky, Franny and Zooey, Goodnight Moon, The Catcher in the Rye
Favorite Perfume: Boss Nuit,
Favorite Music: Rick Ross, Jay-Z, Frank Ocean, Kendrick Lamar
Favorite Movie: Revenge of the Nerds
Favorite Designer: Stella McCartney
Favorite Food Restaurant: Elio's and Babbo in New York City, City House in Nashville, Tartine Bakery in San Francisco, Gjelina in Los Angeles, Chisou in London
Favorite Food Blogs: Smitten Kitchen, Matt Bites, Pictures and Pancakes, Orangette, David Lebovitz, Oh Joy Eats, What Katie Ate, Tastespotting, Stay at Stove Dad, Canelle et Vanille