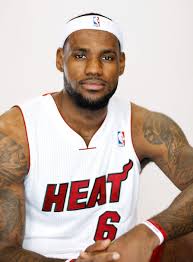 LeBron James is a well-known NBA star born in Ohio on December 30, 1984. Many people say that he was born to become a basketball star as he started proving his talent at a quite young age. In 1999, James joined basketball team of St. Vincent-St. Mary School and during his school life, James average score per game was 25.2 points.His passion and talent for basketball made him popular among people in a short time period.
LeBron James also got selected for USA Today ALL-USA First Team because of his talent. He was the first one who got selected as a sophomore. James efforts also helped his team to won the "Division III state Title" for the second time. Due to his outstanding performances, LeBron James was named "the best high school basketball player in America right now" by SLAM Magazine. In short, James proved himself as a strong and competitive player of basketball. While studying at school, he was prominent player of his team. James took part in almost every match during his four years education at St. Vincent-ST. Mary School and scored almost 2,657 points.
In 2003, James got selected for NBA draft because of his extremely impressive performances. His passion and performance opened a new dimension for his future. He was picked by Cleveland Cavaliers in NBA Draft and LeBron kept playing for the team for almost 7 year before joining Miami Heat basketball team in 2010. For his extrodinay performances throughout his career, LeBron James has received a number of awards along with two gold and a bronze medal in Olympics. Different critics and sportswriters have often compared LeBron James with legendary basketball player "Michael Jordan".
Due to his worldwide fame, a large number of international companies like Nike, Coca-Cola and Samsung have signed endorsement deal with LeBron James which is the most major source of James earning. Apart from his professional life, LeBron James also established a Family foundation in 2004 for poor families and kids with the help of his mother and has been donating money to different organizations who work for social causes. The top basketball player in the world is happily married to Savannah Brinson to whom LeBron James had proposed in 2011. The couple got married in 2013 and currently have 2 sons named Bryce Maximus James and LeBron James, Jr.
LeBron James Personal Details:
Complete Name: LeBron Raymone James
Nicknames: King James, The L-Train, The Akron Hammer
Occupation: Basketball Player
Date of Birth: December 30, 1984
Birthplace: Akron, Ohio
Zodiac Sign: Capricorn
Height: 6′ 8″ (2.03 m)
Net worth: $185 Million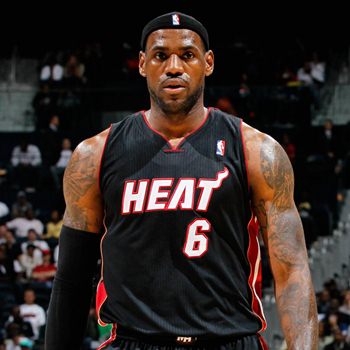 LeBron James Favorite Things:
Hobbies and Interests: Listening Music, Playing Basketball, Reading, Spending Time with family and Friends
Favorite Color: Blue
Favorite Food:Turkey, Cereal, Shrimp
Favorite Cereal: Fruity Pebbles, Cinnamon Toast Crunch
Favorite Fruit: Mango, Grapes
Favorite Book: The Hunger Games trilogy, The Tipping Point, Decoded
Favorite Perfume: Dolce & Gabbana One for Men
Favorite Music: Hip hop
Favorite Rapper: Jay-Z, Kanye West, Drake
Favorite Actress: Marilyn Monroe
Favorite Movie: Gladiator, Friday (1995)
Favorite TV Show: Martin
Favorite Cartoon: Tom and Jerry
Favorite Shoe: Soldier 7s
Favorite Sports: Basketball, Baseball
Favorite Baseball Team: New York Yankees
Favorite Player: Michael Jordan, Allen Iverson
Favorite Car: Bentley GT
Favorite Video Game: NBA 2K14
Favorite Pet: Dog
LeBron James Interesting Facts:
LeBron is the only child of his parents.
Although LeBron James shoots right handed but writes with his left hand.
He became the youngest player in NBA history to score 15,000 points in 2009-10.