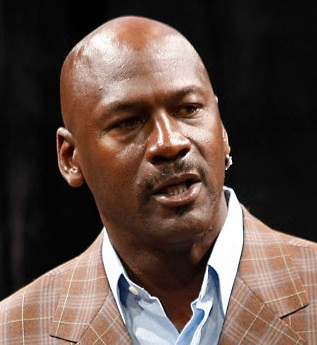 Born on February 17, 1963, Michael Jeffrey Jordan often called by his initials, MJ, is a former American professional basketball player and entrepreneur who is widely regarded as the greatest basketball player of all time. He is the fourth of five children of Deloris and James R. Jordan, Sr. Michael Jordan developed interest in basketball after seeing his elder brother playing. While studying at the University of North Carolina in 1981, he became of the member of school's basketball team and soon became the most dominant player of the team.
The professional career of Michael Jordan began in 1984 when he was drafted by the Chicago Bulls to play in National Basketball Association (NBA). He immediately proved his worth in the court by showing impressive performances in every game. Jordan became one of the most highlighted player of the game after winning his first NBA championship with Chicago Bulls in 1991 followed by defending the title in next two years. After winning the third NBA championship, Michael announced his retirement from the game in order to pursue a career in baseball but later rejoined the Chicago Bulls in 1995 and won 3 more NBA championships in 1996, 1997 and 1998. He then again announced his retirement in 1999 but returned to play for Washington Wizards from 2001 to 2003.
Referred as the greatest player of the game ever, Michael Jordan list of career achievements is pretty long but some of his individual accomplishments include 5 Most Valuable Player (MVP) Awards, 3 All-Star Game MVP Awards, 10 All-NBA First Team designation and 14 NBA All-Star Game appearances.
Apart from his special skills in the court, Michael Jordan is also known for his product endorsements especially the Nike's Air Jordan Sneakers which were launched by the company in 1985 and are still very popular among basketball fans. In addition to this, Jordan has also starred in 1996 film Space Jam and is also currently the owner as well as chairman of NBA team Charlotte Hornets. Michael Jordan married Juanita Vanoy in 1989 with whom he has 3 children. The couple filed for divorce in 2002 but reconciled shortly thereafter but again filed for divorce in 2006 and separated in December that year. Jordan then started dating model Yvette Prieto to whom he proposed on Christmas Eve in 2011. The couple married on April 27, 2013 and Prieto gave birth to identical twin daughters on February 11, 2014.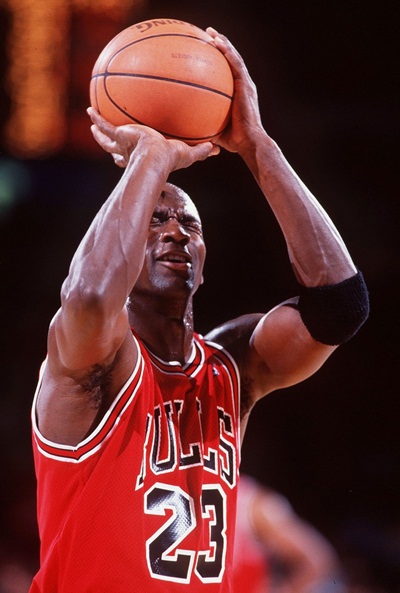 Michael Jordan Personal Details:
Complete Name: Michael Jeffrey Jordan
Nicknames: Air Jordan, Black Cat, MJ, His Airness
Occupation: Basketball Player
Date of Birth: February 17, 1963)
Birthplace: Brooklyn, New York
Zodiac Sign: Aquarius
Height: 6′ 6″ (1.98 m)
Net worth: $1 billion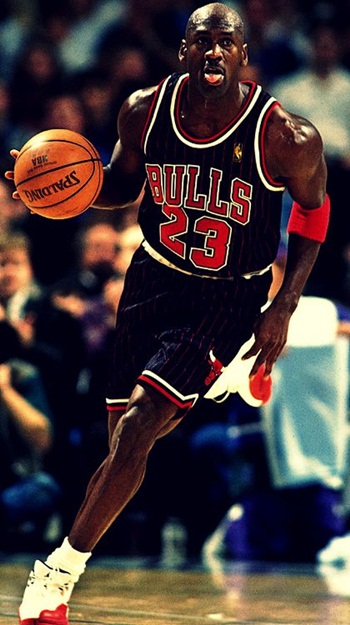 MJ Michael Jordan Favorite Music, Color, Cigar and other favorite things:
Given below are the complete details about Michael Jordan MJ favorite things including color, cigar, music, perfume, sports, number, shoes, dunk and hobbies etc.
Hobbies and Interests: Golf, Motorcycling, Music, Gambling
Favorite Color: Red, Black
Favorite Cigar: Cohiba Limited Edition Double Corona
Favorite Perfume: His own Michael Jordan Fragrances
Favorite Music: Hip-hop
Favorite Sports: Basketball, Baseball
Favorite Pickup Team: Scottie Pippen, Hakeem Olajuwon, James Worthy, Magic Johnson
Favorite Number: 45
Favorite Shoes: Jordan 11s, Jordan 3s, followed by the 12s or 13s
Favorite Dunk: Patrick Ewing, Dikembe Mutumbo