The most awaited awards ceremony of the year, the Oscars are finally here and with the award show just a couple of days away, the predictions about who will win that night have been one of the hottest topics recently. So in order to give an overview to our visitors that what you can expect to happen at the 87th Academy Awards 2015, we have listed the complete names of actors and actresses who have been nominated for the awards and have also made a prediction about who will be holding a Oscar in his/her hand at the end of the night.
Best Actor Award Winner Prediction:
Steve Carell, Foxcatcher
Bradley Cooper, American Sniper
Benedict Cumberbatch, The Imitation Game
Eddie Redmayne, The Theory of Everything

(Winner)

Michael Keaton, Birdman
When it comes to the best actor, there is a extremely high level of competition between Birdman actor Michael Keaton and The Theory of Everything star Eddie Redmayne. Keaton won the Golden Globe but Redmayne beat him at the Screen Actors Guild Awards last month and as SAG has predicted all best actor Academy Awards winner in the past 10 years, we think that it will be the 11 straight year this time.
Oscar 2015 Nominations Predictions full list for Best Actor and Actress Awards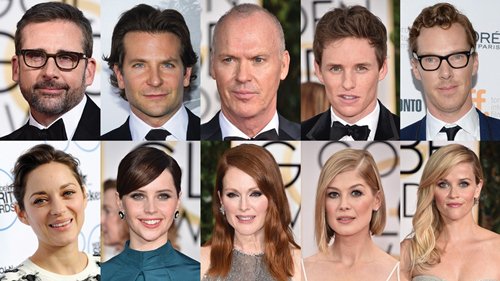 Best Actress Award Winner Prediction:
Marion Cotillard, Two Days One Night
Julianne Moore, Still Alice

(Winner)

Felicity Jones, The Theory of Everything
Rosamund Pike, Gone Girl
Reese Witherspoon, Wild
The Still Alice actress Julianne Moore is clearly the favorite for winning a Oscar this year for her fabulous performance. She has already won Golden Globe and SAG awards which makes her the strongest contender for Best Actress academy award. Julianne has already received nominations for Academy Awards four times prior to this but never won any but this time, she will definitely claim what's hers.
So these were complete details about the Best Actor and Actress awards nominees for Oscar 2015 and the reason behind our prediction about the winners. Do let us know about you opinion that whether you agree or disagree with our predictions through the comments section.