The Indian actress and model, Gauhar Khan was left traumatized when she was slapped by a member of audience while shooting for the grand finale of India's Raw Star Show. As per reports, a 24-year old man named Akil Malik slapped the show host for wearing short clothes.
The incident began when Akil began started passing lewd remarks on Gauhar Khan's outfit and he later jumped on to the stage and tried to touch her. When the Bigg Boss 7 winner protested again it, the man slapped her right on the stage in front of everyone.
The security of the show immediately cam into action and the Akil Malik was later handed over to Mumbai Police and has been charged with molestation under section 354 of the Indian Panel Code. The man told police that being a Muslim, Gauhar should not have worn such a short dress.
Gauhar Khan slapped at India's Raw Star, Man Name Pictures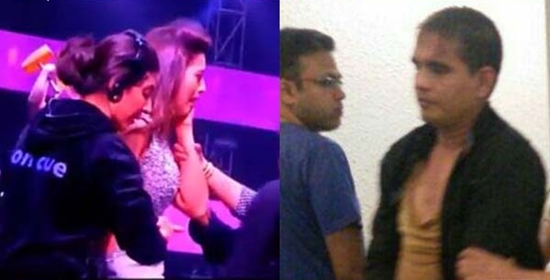 The initial police investigation reveals that Akil had been working on the sets of the show for past three days and did not liked the outfits worn by Guahar Khan so he decided to teach her a lesson. But how the attacker was able to reach Gauhar Khan on stage despite of 250 security guards, is a question which still needs some clarification.