The three superstars of Indian film industry, Shah Rukh Khan, Aamir Khan and Salman Khan will be seen together on the screen for the first time after several years which makes it a kind of historic event for the fans of these actors. Although they won't star together in a film but the Khan's of Bollywood are all set to make an appearance together on India's longest-running television show "Aap Ki Adalat", which has completed 21 years of running.
The three actors have made media headlines to several occasion due to their cold war but things have started to calm down a bit due to recent events like Baba Siddiqui's Iftar party and the wedding of Salman Khan's sister Arpita Khan which was attended by all three khans.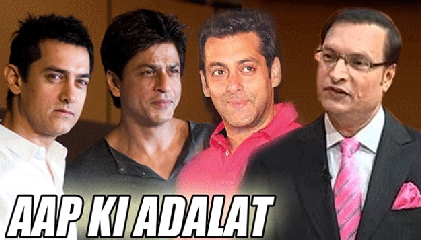 Many people have made efforts in past to bring these superstars close but none of them has been successful but Aap Ki Adalat is all set to make history by bringing Salman Khan, Aamir Khan and SRK together on one stage. The special episode with three Khans was shot on 2nd December 2014 at New Delhi's Pragati Maidan and will be aired simultaneously on India TV and Star Plus on 7 December, 2014 at 10 PM.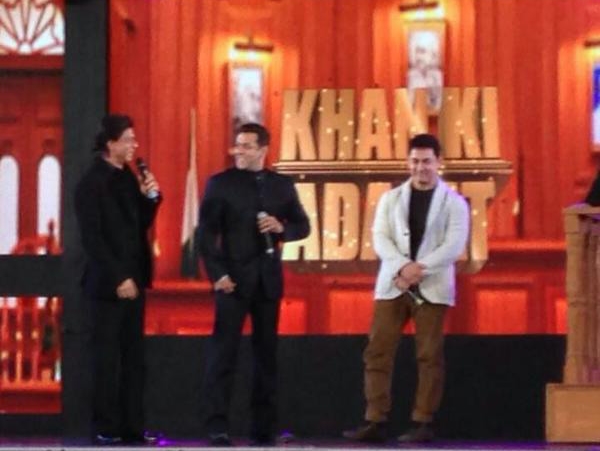 Apart from Salman Khan, Shahrukh Khan and Aamir Khan, many other top celebrities will also be gracing the stage of Aap Ki Adalat including Sonu Nigam, Deepika Padukone, Shilpa Shetty, Kumar Sanu, Himesh Reshammiya, Rani Mukerjee, Daler Mehndi, Mallika Sherawat, Priyanka Chopra, Ranbir Kapoor and Sonakshi Sinha. The show is yet to be aired so keep visiting us on regular basis as more Aap Ki Adalat with SRK, Salman and Aamir Khan pictures will be updated on this page as soon as they are officially released.